Bridge Organics is a privately owned Contract Research Organization (CRO) providing manufacturing and process development services to a wide variety of customers. We are located near Kalamazoo, Michigan, and are 100% US based.
Our team is comprised of chemists with extensive experience in the areas of:
Bridge manufactures chemicals of interest to the Pharmaceutical, Agricultural and Biotech industries, among others, over a wide range of scale.  Our manufacturing capability spans from gram to >500 kg campaigns.
We apply our expertise in the design, implementation, and improvement of multi-step syntheses of complex targets on behalf of our customers.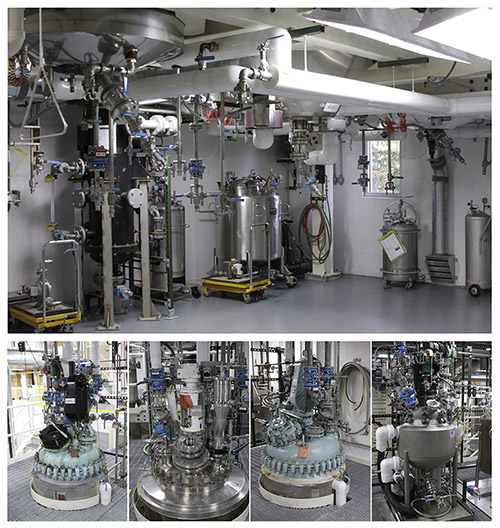 COVID-19 Response
To Our Valued Customers and Supply Partners,
In response to the COVID-19 Coronavirus, on March 23, 2020, a Michigan State executive order mandated that 100% of the workforce for non-essential businesses must stay home. Since Bridge Organics plays a critical role in the supply of materials and services to many global Pharmaceutical companies, we have an obligation to remain open.
Our priority is first and foremost to protect the health and safety of our employees & their families as well as our customers & supply partners. We have evaluated the roles of all of our staff and reduced the number of personnel working on site.  Those persons necessary for daily operations and working on-site are practicing safe social distancing and taking other measures consistent with guidelines established by the CDC and CISA.
What else is Bridge Organics doing?
Our Team at Bridge will continue to service the needs of our customers and suppliers as we focus on our critical role as a supplier of materials and services to the Pharmaceutical industry.  Those employees' whose "on site" attendance is not critical to daily operations will be working from home or on paid leave during the virus outbreak.  Bridge has significantly restricted supplier and service provider visits to our facility until further notice.  We are staying informed of any and all emerging information to ensure we continue to adjust accordingly.
How you to contact us?
Phone number: 1-269 649-4200
Email address: businessoffice@bridgeorganics.com
Again, we will continue to monitor and assess the situation and keep you up to date in a timely manner.  As always, thank you for your continued support; we wish you all the best.  Please be safe and stay healthy!